Omega Mantels Launches Volume 2 eCatalog for New Designer Fireplace Mantels
Posted on September 29, 2015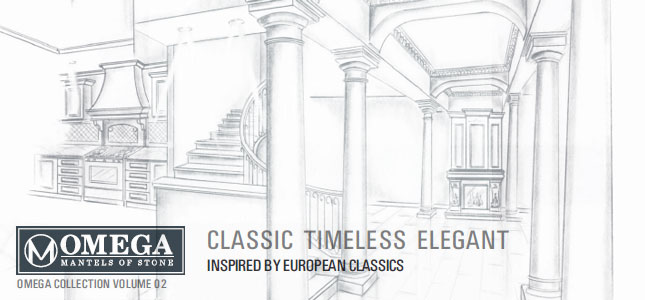 In preparation for the Holidays, Omega Mantels & Mouldings Ltd. design experts launches fresher, bolder designs for cast stone fireplace mantels and kitchen hoods for the North American homeowner. The new designs aim to target modern homes and commercial establishments giving homeowners, architects and interior designers a more diverse variety of options for chic and stylish fireplace cast stone mantels and surrounds particularly this holiday season. The classic favourites are still very much available - from traditional to contemporary, intricately detailed to a simple mantel design. Omega's Volume 2 catalogue is free to download here (33 MB).

For hundreds of years, cast stone has been used as the key building material. The earliest known use of cast stone dates about to the year 1138 at Carsassonne, France - the city that contains the finest remains of medieval fortification in Europe. During the 19th century, cast stone was first extensively used in London. In 1920, the use of cast stone has been adapted in North America and has gained widespread popularity for home decor projects.

Today, cast stone is the prime material used in ornaments such as columns, fireplace mantels, fire pits, kitchen range hoods, among others. Aside from its durability, it has also been recognized for its natural beauty, which does not require additional finish. It is also a cost effective alternative to natural stone.

Omega Mantels has been creating high quality, customized cast stone fireplace mantels and kitchen hoods for the United States and Canada for over three decades. They also offer feature moulds for wall and ceiling decor, fire pit tables for outdoor spaces, electric and gas fire ranges, and commercial cast stone cladding. The company provides design consultation services in major locations of North America without additional cost by contacting our design consultants through: contact page.

We welcome you to visit our website and view our showroom via virtual tour and allow us to assist you to create your custom space, inspired by you ,,,, designed and manufactured by Omega Mantels & Mouldings Ltd.
Subscribe to Blog
Enter your email address to automatically receive updates when we create a new blog post.